Before anything else
Step 1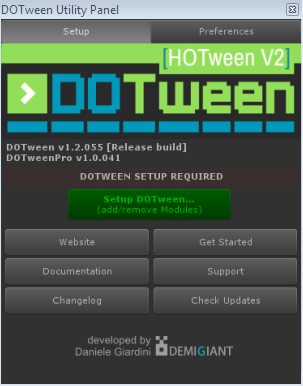 Download DOTween and unzip it anywhere in your Unity Assets folder (just not inside the Editor, Plugins or Resources directories).
Setup
After importing a new DOTween update, you have to setup DOTween in order to import/re-import additional libraries based on your Unity version and activate/deactivate Modules.
To setup DOTween, open DOTween Utility Panel from the "Tools/Demigiant" menu, then select "Setup DOTween..." from the panel that appears.

Step 2
Import DOTween's namespace in each class/script you want to use it:
using DG.Tweening;
(DG stands for Demigiant, Tweening for, uh, tweening)
Step 3 (optional)
Initialize DOTween to setup some global options:
DOTween.Init(autoKillMode, useSafeMode, logBehaviour);
If you don't do that (or do that after creating your first tween) DOTween will be auto-initialized with the default settings, but you can still change them whenever you want.